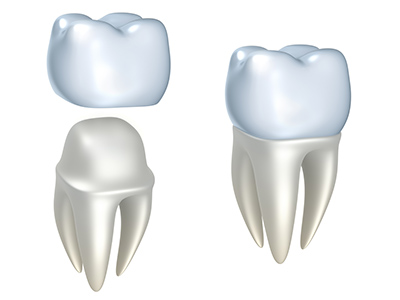 There are several different materials that a dental crown can be made out of, and porcelain crowns are one of the best types. You will find them recommended by all types of dentists, and our Water's Edge Dental dentists are no exception. We love the versatility and benefits that porcelain crowns provide.
What makes a porcelain crown come so highly recommended? Why do so many dentists swear by them, and where should you use porcelain crowns to get the best effect?
The Placement of Porcelain Crowns
Porcelain crowns are very translucent, which means that they allow light to go through them, and due to this, they look like regular teeth. They are the best for restorations involving your front teeth and not your back teeth because the material is prone to fracturing and breaking down with use.
They are very beautiful and that is why many patients get them restored at the front since their color is influenced by the tooth they are capping. They also come without metal implants and can be comfortable for people with heavy teeth sensitivity.
Using Other Types of Crowns
The main drawback of porcelain crowns is that they are not durable. They are not really meant to go anywhere near the back teeth, and they are prone to cracking and breaking. Our dentists get around this by using porcelain fused to metal. The combination is more durable, and the metal will stay in your mouth for longer, even if the porcelain comes off.
This makes porcelain fused to metal crowns the perfect choice for both front and back teeth. Plus, it is less expensive than getting full porcelain crowns. Make sure that you look at porcelain crowns that can be fused with other materials, as it will offer some good benefits and will be less expensive for you too.
How Are Crowns Installed?
There are two visits needed for a dental crown to be installed. The first visit has our dentists examining the tooth that will need to be covered by the crown. This will involve x-rays, root canals to remove the damaged pulp, and some filing of the tooth to ensure that the crown will fit the tooth.
We make an impression of the tooth that is going to be molded, and then send that to a lab. The team at the lab makes up the crowns and then sends them back to us. You will come in for the second procedure and we will place the permanent crown in your mouth. We do this by numbing your mouth and cementing the new crown in place.
Come To Us And Get Your Crown
If you think your mouth may need a porcelain crown, then our team here at Water's Edge Dental is ready to help you out. Porcelain crowns are easy to make, and they provide a very beautiful and natural look to your mouth. They are some of the best cosmetic crowns available, and our office knows how to install them. Call (208) 391-8554 and we will make sure that you walk out the door with the best smile you have ever had.